Volunteering at the Tram parade
On Sunday 11 june 2006, the NVBS (Dutch Railway Appreciation Society) held a Tram parade for their 75th anniversary in the west of Amsterdam.
I've found that I enjoy events as these much more when I participate than when I just consume passively, so when there was a call for volunteers I jumped in.
The parade consisted of historical trams and a few new ones from other cities. Naturally they all lacked the VETAG-equipment that regular trams carry to automatically set the switches in the right position, therefore the GVB turned the automatic system off, and all the switches had to be changed by hand. That's where the volunteers were needed, and that's what I had to get out of bed for at 7.15 on a beautiful sunny Sunday morning.
In action, photos by Wim Claassen: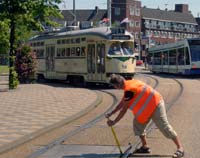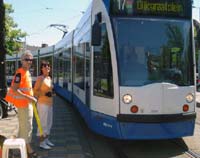 And one more, photo by Marvin van der Sloot: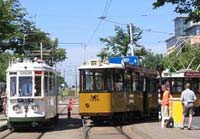 Some snaps of the volunteer crew:




In short, I greatly enjoyed the day, and so did 2000 visitors. For an impression of the trams, see these galleries: