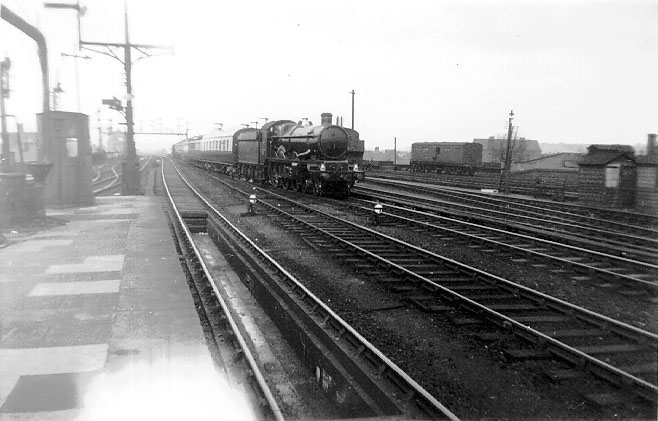 Photograph 6. A Great Western express, hauled by a Star class 4-6-0 locomotive, approaching Reading from the West with an up express. The train is taking the platform road, so it is stopping at Reading.
The engine is very clean and the first coach is brand new. Since white roofs lasted a very short time in service, it may be on a "running in" duty following overhaul at Swindon works.
The platform that the train is entering is number 5. The west end of platform 5 was the most favoured place for spotters, but photographers more often used the west end of platform 4, as is the case here, because the direction of the light for most of the day is better.
(Thanks to Ken Hayward and Russ Elliott; also to Bill Bedford, Simon Farrar and James Wilkinson)

A word about copyright: I am perfectly willing to give permission to use the pictures on this site in whatever way, as long as it is in the spirit of this page. You do need to ask first, however: they are not in the public domain. Also, do not publish any of them elsewhere on the net. Please respect them. Thank you.
View the guestbook - Sign the guestbook
Previous photograph - Next photograph
Back to the David Booth In Memoriam page
This page was last updated on 28 January 1998. © Sakaama.