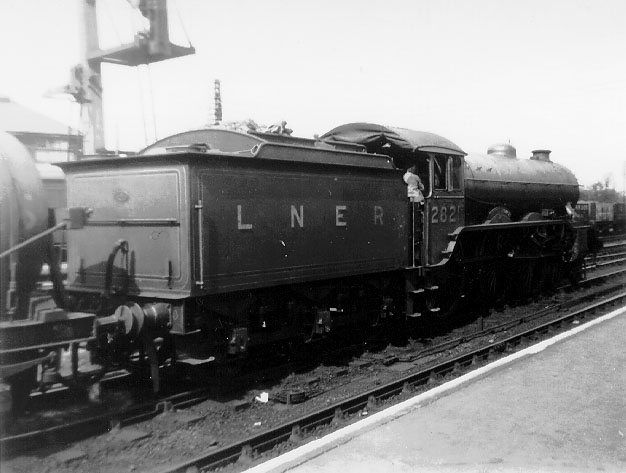 Photograph 4. LNER Class B17, "Hatfield House", in Apple Green Livery. There was some uncertainty about the exact number, until Roy mailed me that it was definately 2821. In a later stage, this loco got renumbered to 61621, but I guess this was in another era.
Note, also, the milk tank next to the engine.
The location might be the down through road at Ipswich.
(Thanks to Bill Bedford, Phillip Chudley, Simon Farrar, Roy Vandersteen and Chris Burton)

A word about copyright: I am perfectly willing to give permission to use the pictures on this site in whatever way, as long as it is in the spirit of this page. You do need to ask first, however: they are not in the public domain. Also, do not publish any of them elsewhere on the net. Please respect them. Thank you.
View the guestbook - Sign the guestbook
Previous photograph - Next photograph
Back to the David Booth In Memoriam page
This page was last updated on 8 June 1999. © Sakaama.