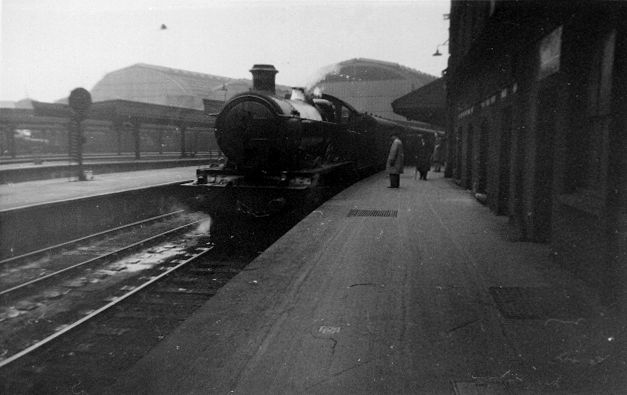 Photograph 12. Paddington, with a GWR "Hall" or "Star".
Peter Chesson remarked on the original assumption that it also might have been a "Manor" or "Grange" :
I think No 12 is more likely to be a Hall or a Star. If it was a Manor or a Grange the running plate would be raised above the cylinders, but it does not appear to be.
Jim Woods added:
I'm no expert, but I believe that it's Platform 1 at Paddington, towards the outer end rather than the inner - the platform surface in this area appears on photographs to have the appearance of wooden planking. The station roof in the distance also seems Paddingtonian.
The chimney on the locomotive seems too tall for any of the classes quoted. My guess would be that it's a Star.
Please let me know if you know more about the engine portrayed, or the place and time where this picture was taken!
(Thanks to Peter Chesson, Phillip Chudley, Simon Farrar and Jim Woods)

A word about copyright: I am perfectly willing to give permission to use the pictures on this site in whatever way, as long as it is in the spirit of this page. You do need to ask first, however: they are not in the public domain. Also, do not publish any of them elsewhere on the net. Please respect them. Thank you.
View the guestbook - Sign the guestbook
Previous photograph - Next photograph
Back to the David Booth In Memoriam page
This page was last updated on 18 March 2003. © Sakaama.