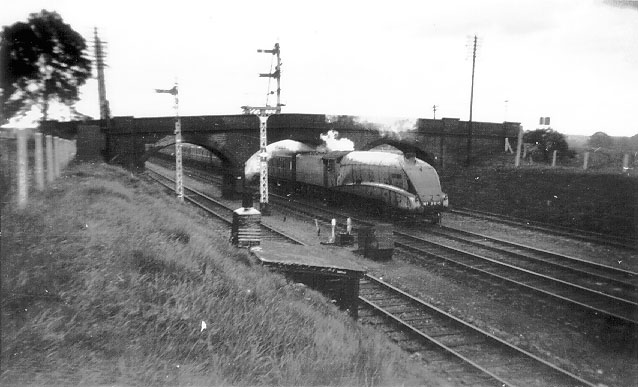 LNER streamliner locomotive No. 2510 "Quicksilver", an A4 class 4-6-2 Pacific. It's colour suggests it to be one of the first four streamliners. The Garter Blue livery dates this photo between 5/1938 and 10/1943.
M.R.Godwin adds: Quicksilver was one of the first four A4 Pacifics. It was originally painted silver grey for the Silver Jubilee service introduced in 1935. I'm not sure when it was repainted in Garter blue.
Ian Upton: these [photo 1 and 15] are the same location. one is on the bridge. the other looking at it. you can tell by the little hut in the foreground (with the chimney)
(Thanks to Bill Bedford, Phillip Chudley, Simon Farrar, James Wilkinson, M.R.Godwin and Ian Upton)

A word about copyright: I am perfectly willing to give permission to use the pictures on this site in whatever way, as long as it is in the spirit of this page. You do need to ask first, however: they are not in the public domain. Also, do not publish any of them elsewhere on the net. Please respect them. Thank you.
Next photograph
View the guestbook - Sign the guestbook - Back to the David Booth In Memoriam page
This page was last updated on 21 February 2005. © Sakaama.